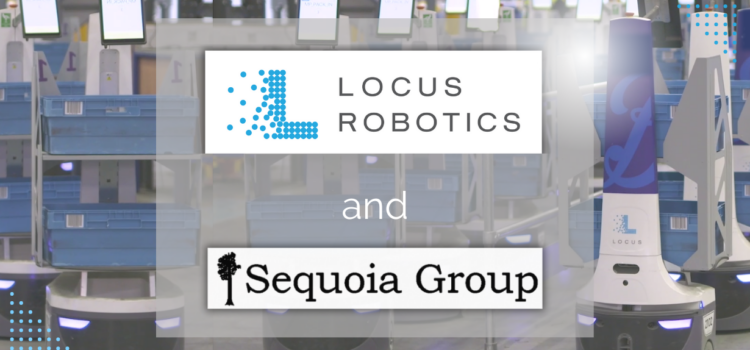 Sandy, Utah – Sequoia Group, a respected and tenured warehouse operations solutions provider, is thrilled to announce a strategic partnership with Locus Robotics. This collaboration brings together cutting-edge technology and unmatched industry expertise, paving the way for a new era of efficiency and productivity in the world of warehousing and logistics.
Locus Robotics is at the forefront of the robotics revolution, providing innovative solutions to meet the growing demands of the e-commerce industry. The company's advanced autonomous mobile robots (AMRs) are designed to work seamlessly alongside human workers, enhancing warehouse operations and optimizing order fulfillment processes. Locus Robotics dramatically increases the productivity of warehouse staff while reducing errors, ultimately leading to faster order processing and improved customer satisfaction.
This strategic partnership is an exciting development for both Locus Robotics and Sequoia Group as they join forces to redefine warehouse automation.
"By partnering with Sequoia Group, we are taking a significant step towards reshaping the future of warehousing," said, Steve Simmerman, head of Global Alliances at Locus Robotics. "Sequoia's extensive experience will enable us to accelerate our mission of transforming the logistics industry through robotics and automation, empowering businesses to adapt and thrive in the digital age."
Sequoia Group is renowned for its visionary partnerships in technology and innovation which drive long-term growth. With a proven track record of identifying and nurturing transformative partnerships, Sequoia Group brings unparalleled insights and resources to the table.
"We are excited to partner with Locus Robotics on their journey to revolutionize warehousing operations worldwide," said Steven Fitt, CEO at Sequoia Group. "Locus has demonstrated exceptional vision in developing intelligent and efficient robotics solutions that address the growing demands of modern-day supply chains. We believe this partnership will drive significant advancements in warehouse automation and drive sustainable success for businesses in the industry."
Key benefits of the Locus Robotics and Sequoia Group partnership include:
1. Accelerated Innovation: The partnership combines Locus Robotics' technological expertise with Sequoia Group's warehouse management experience, enabling the development of next-generation robotics solutions for warehouse automation.
2. Enhanced Customer Experience: By streamlining warehouse operations and improving order fulfillment accuracy, together both Sequoia Group and Locus Robotics will witness elevated customer satisfaction and success rates.
3. Increased Efficiency: Locus Robotics' innovative Robots as a Service (RaaS) model offers a cost-effective solution for integrating robotics into distribution centers. This approach allows clients to effortlessly incorporate robots during peak seasons without a long-term purchase commitment, enhancing cost-effectiveness and operational efficiency. As a result, clients typically achieve a remarkable return on investment (ROI) within a mere 7-8 months.
About Locus Robotics:

Locus Robotics, founded with a vision to enhance operational efficiency and productivity, Locus Robotics specializes in creating innovative and intelligent autonomous mobile robots designed to work collaboratively with human workers. These robots employ advanced AI algorithms and sophisticated sensor technology, enabling them to navigate complex warehouse environments, pick and transport items with remarkable speed and accuracy. Locus Robotics' solutions have proven to significantly improve order fulfillment rates, reduce operational costs, and streamline warehouse workflows for various businesses worldwide. Their dedication to delivering scalable, flexible, and easy-to-implement solutions has established Locus Robotics as a leading force in the rapidly evolving world of warehouse automation.
Website: www.locusrobotics.com
About Sequoia Group:
Sequoia Group's distribution management solutions aim to enhance efficiency, reduce costs, improve customer satisfaction, and optimize the overall distribution process for businesses, regardless of their size or industry. With a focus on solving problems, reducing human error, and, most importantly, adding value to their client's bottom line, their services have fostered strong collaborations with suppliers and customers for over three decades. Drawing from extensive experience in implementing all aspects of complex warehouse operations, Sequoia Group's solutions are tailor-made to effortlessly streamline workflows and further refine system efficiencies. As a result, Sequoia Group's clients have enjoyed remarkable success and significant, measurable improvement through their robust complex distribution and 3PL distribution management offerings. These offerings include a full suite of industry-specific solutions from Tecsys and Infor.
Website: www.sequoiagroup.com
For media inquiries or more information, please contact:
Kaisa Dahl
Marketing Director
Sequoia Group, Inc.
kaisa@sequoiagroup.com
801-571-2300
###

Sequoia Group Announces Partnership with Locus Robotics, Revolutionizing the Future of Warehouse Automation